A solution for the lockdown hair nightmare
Five members of staff at Whipps Cross Hospital braved the shave this year in support of our Emergency Covid-19 Appeal.
Inspired by conversations about how her colleagues were going to manage their hair during lockdown, Kim, a senior physiotherapist, came up with a solution. With hairdressers now closed, Kim decided to give herself a low maintenance hair cut by shaving her head completely.

A team effort
Kim managed to persuade four of her colleagues to take part as well, although one of them has decided to shave his rather large beard instead!
The colleagues work on the outpatients physiotherapy ward at Whipps Cross Hospital, and have seen their work change dramatically over the past few weeks.  From previously seeing patients and being hands-on with their recovery, they are now conducting appointments through their laptop screens. However, it was seeing how life for their colleagues on the inpatient wards had changed so dramatically that inspired them to fundraise.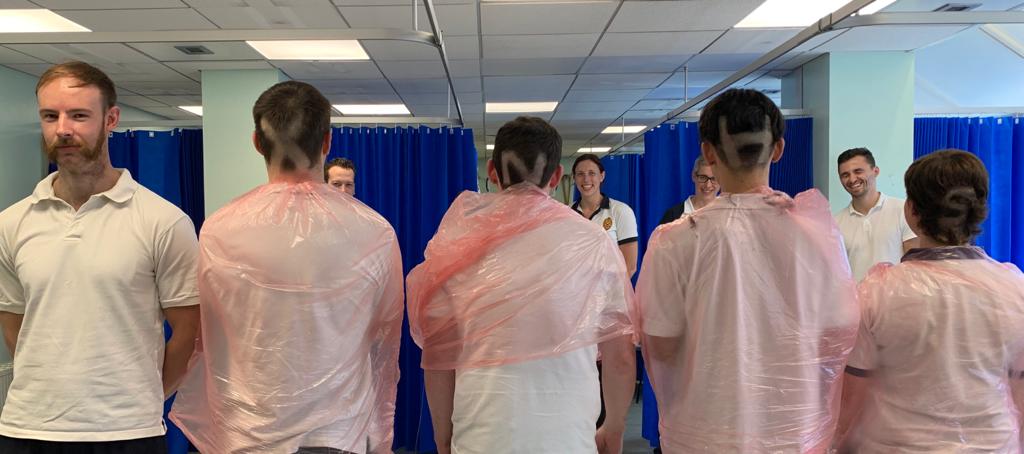 Beating their fundraising target
Kim says: "We are raising money for a good cause, it is great to see the team all pulling together during this difficult time. We have gone over our target and would like to thank everyone that has donated it really means a lot to us and the hospital".
All five of them took part at the same time in neighbouring cubicles and there was no shortage of volunteers to manage the clippers!
Following the event, Jamie said: "I will need more sun cream" and Ross says that he looks like "David Beckham's stunt double".
Kim and her team have raised over £2,000 by speaking to their colleagues and reaching out to their local community groups on Facebook, such as Kim's bootcamp, which has been put on hold during lockdown.
Thank you Jamie, Ross, Koko, Jamie and Kim!
Support East London's NHS
Donate