Friends take on Yorkshire's Three Peaks for Barts
Earlier this year, Lisa was diagnosed with blood cancer and began treatment at St Bartholomew's Hospital. To support Lisa and the hospital, her friends scaled the Yorkshire Three Peaks – on one of the hottest days of the year – and raised over £3,000.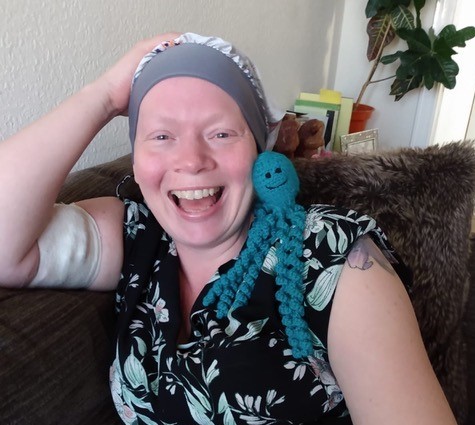 It was mid-June when Lisa noticed that she was getting tired more easily. She'd just started a new job and remembers getting out of breath more easily on her morning walk, and generally lacking energy.
One night she decided to have a bath and an early night to combat this fatigue. "I remember turning on the taps" she says, "and the next thing I remember was lying face up on my bedroom floor with no recollection of how I got there."
Up here on the Bodley Scott Unit, it's amazing to see the dedicated people working in our NHS. They truly go above and beyond.
Lisa's partner took her to their local hospital in Colchester where she underwent blood tests. The Haematologist, who's usually based in the lab, visited Lisa to deliver the results personally. He said that Lisa was extremely anaemic and that she had very low haemoglobin levels. The Haematologist said that this was caused by an aggressive blood cancer. "I thought that he must have got the wrong patient," says Lisa. "I just couldn't believe it."
But the diagnosis was correct and Lisa was transferred to St Bartholomew's Hospital where she's had three rounds of intensive chemotherapy. She's been very impressed with the care, saying "everything is so well organised. The staff are exceptional and I don't think you'd get better care if you went private. Up here on the Bodley Scott Unit, it's amazing to see the dedicated people working in our NHS. They truly go above and beyond."
"I taught myself crochet on YouTube and the first thing I made was a toy octopus called Bart. I made a joke with the nurses that they're like octopuses – their planning, organisation, time management is all amazing, they need 8 arms just to get everything done!"
Lisa's partner Jay and his school friends have taken on many challenges, including cycling from Lands End to John o' Groats. Ready for their next fundraising trip, they decided to take on the Yorkshire Three Peaks and asked Lisa where she'd like the donations to go. "I said Barts straightaway" she says. Donations have previously been used for many initiatives on the Bodley Scott Unit, including chemotherapy chairs and portable DVD players.
The friends raised over £3,000 from the challenge, which took them 3 days. One of the fundraisers Simon, says: "Lisa has been a friend to us all for over 10 years. We all wanted to make an individual contribution, however small, given that Lisa was doing all the hard work, undertaking the heavy difficult treatment. It was the least we could do.  
"The most challenging element of the walk was day 1 – the sun was in excess of 28oC, one of the hottest days of the year in Yorkshire. Overall, if we had had the chance to do it again, we wouldn't change a thing. It brought us back together as friends (during a challenging lockdown) and raised a substantial amount for the Bodley Scott Unit and their care for Lisa."  
We'd like to say a huge thank you to the team and wish Lisa all the very best with her recovery.