A&E doctor climbs hospital stairs to support colleagues
Along with her colleagues at The Royal London Hospital, Dr Alice MacArthur has been working under challenging conditions to fight COVID-19. Today, she's spending 10 hours climbing up and down the hospital's 17 flights of stairs to raise money for our COVID-19 appeal and keep helping those affected by the virus.
Alice says: "For the last 9 months I have been working in A&E at The Royal London Hospital. These past 2 months have been extremely challenging due to a number of well documented reasons. However, I am proud to be a part of such a kind and hardworking team."
"People who have met or worked with me know how much I love exercise and fitness. This year I had planned to do my first ultra marathon and was deep into my training plan. Running is my go-to whenever I'm stressed or feeling overwhelmed. It has helped me cope with the anxieties I faced with coronavirus and the stress of A&E. COVID may have cancelled my race, but that won't stop me completing another challenge this year."
Alice's challenge is to spend 10 hours – the duration of a normal shift – climbing the stairs of one of The Royal London Hospital's towers. In order to prepare for the challenge, she's been completing hill runs and preparing her legs on her spin bike.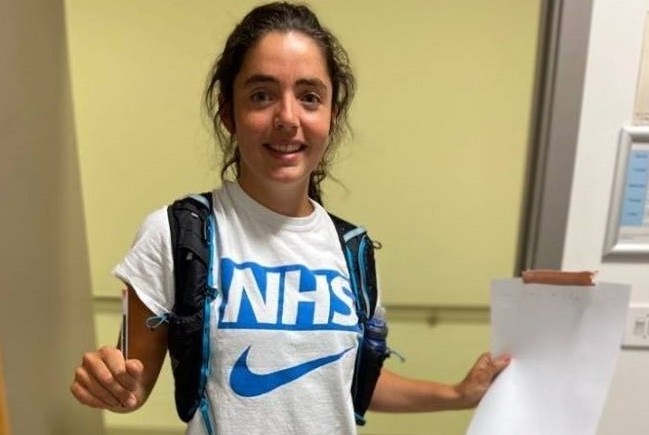 As an A&E doctor working on the frontline of the coronavirus response, Alice is supporting our emergency COVID-19 appeal.
The appeal has already given rapid funding at her hospital for PPE, iPads for patients to talk to their friends and family and extra stethoscopes and walkie-talkies to help staff in her department communicate across COVID isolation zones. Donations will also be used for longer term initiatives like psychological support for staff and improving staff facilities.
Alice adds: "The fight against coronavirus still has a long way to go and we need your generous donations to help fund the NHS and keep helping those affected by this virus."
We're so grateful for Alice's hard work on the NHS front line and for raising over £1,000 for our COVID-19 appeal.