Celebrating being cancer-free
Tilly received treatment for Langerhans Cell Histiocytosis, a rare form of cancer, at Whipps Cross Hospital and Great Ormond Street Hospital.
Thankfully, Tilly is now cancer-free and she recently enjoyed a party with family, friends and staff on Acorn Ward, where she got to ring the 'end of treatment' bell to mark the end of her journey.
Tilly's family have raised an amazing £12,000 to say a big thank you to the staff who have supported them this year.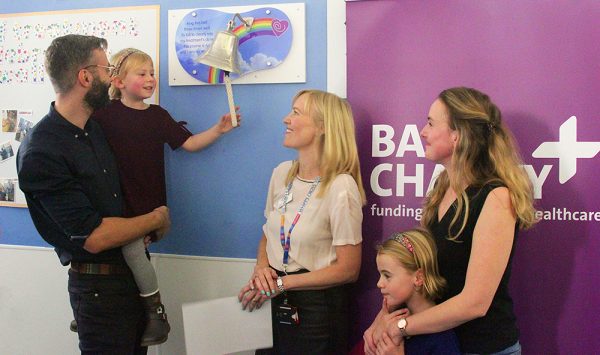 Phenomenal care
Tilly's mum Jenny says: "Tilly has been receiving treatment for a year – chemotherapy and steroid treatment. The team here have been phenomenal, not just administering the medicine but caring for us as a family. This was a chance to give back a little bit and we're thrilled with the amount we've raised."
She adds: "Great Ormond Street is a world class hospital and as such we have received world class treatment for which we are so grateful, but we feel that it is important to also sing the praises of Whipps Cross and other local units which offer families such as ours the chance to receive treatment close to home. The level of care, professionalism and support we have received has been right up there with GOSH."
Helping future patients
The Whipps Cross Hospital team are planning to use the money to change a cupboard space used for photocopying into a relaxing space for children to have chemotherapy and transfusions.
Whipps Cross Consultant Paediatrician Andrea Leigh is leading the project. She says: "We're so grateful to Tilly's family for raising such an astounding amount of money to transform an unused space into a comfortable treatment area so that children receive treatment in an appropriate environment."