Keeping parents connected with their babies
Our funding is helping parents to connect with their babies on the neonatal ward. The messaging platform vCreate allows nurses to take photos and videos of  little ones to share with parents whilst they keep their distance during Covid-19.
Tracy Fox, matron on the neonatal intensive care ward at The Royal London Hospital, discovered vCreate on the local news and instantly wanted to offer the service to her patients.
Having your newborn stay in special care is always challenging, and this is made even more difficult with the Covid-19 outbreak, with visits reduced to one parent per day. This technology helps parents feel connected to their little one through an app when they are unable to visit the hospital.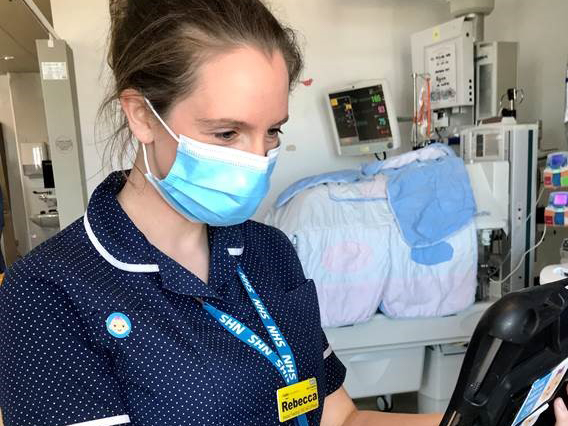 Sharing special moments
vCreate is not just for the parents – siblings can benefit too. Brothers and sisters are not allowed in the wards at this time and this service allows them to bond with their little sibling in a visual way. The service also allows the relationship to build between staff and relatives as messages are exchanged about what the baby has been doing, providing emotional support for parents in this difficult time.
The nurses are also able to capture special moments outside of visiting hours, including when the baby wakes up or during the night. For one mother's birthday, the nurses created and shared a video from her baby to help her celebrate her special day.
"Create is an invaluable resource that helps parents feel connected to their baby."
Tracy Fox, neonatal matron, Royal London Hospital
Tracy says: "We know that parents find being separated from their baby one of the hardest aspects of the neonatal experience. vCreate is an invaluable resource that helps parents feel connected to their baby, particularly at this time of restricted visiting and heightened anxiety."
This initiative is now available on both the neonatal ward and the paediatric intensive care unit at The Royal London Hospital.