Julian received the shocking news that he had Leukaemia in May 2019. He hadn't been feeling unwell, apart from a few recurring colds that prompted his GP to send him for blood tests.
Julian says: "When you get early morning calls from the blood test centre and the local hospital haematology department in quick order you know it's not good news. I was immediately referred to St Bartholomew's Hospital and my daily routine quickly switched to treatment and survival."
Julian spent the 2019 spring and summer receiving chemotherapy and had to put his regular life and work on hold. But that didn't stop him from using his time during treatments to think about what's next. As a married father of two teenagers, he also had his family to think about.
"I swiftly went from feeling devastated to feeling quite assured by the care I got in St Bartholomew's Hospital. Within the first day they'd given me an indication of a path through chemotherapy and having a stem cell transplant that gave me hope of remission, moving forward and a life after it," Julian says.
"Walking was always on my mind as a comfort, as a sort of background therapy and long-term challenge to fight myself through," he adds.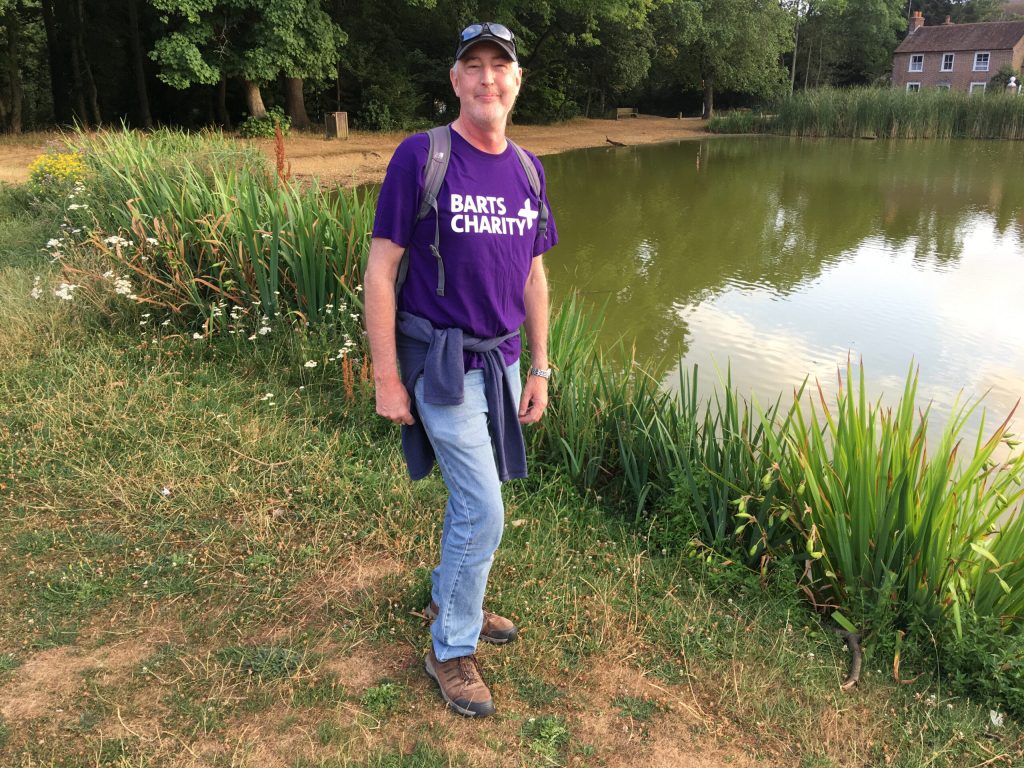 His thoughts turned to walking, both for fun and to do something meaningful. "Here was another chance to change my life and try something completely different. Fairly early on during my first seven-week stint of chemotherapy I came up with the concept of doing a sponsored walk to give something back to St Bartholomew's Hospital. That would eventually go on to become A Really 'Goode' Walk."
Julian – who has also this year started a new business as a walk leader, Goode Walks – sets off on the 5th October and will walk 500 miles coast to coast across Wales, Northern Ireland, England and Scotland over the course of six weeks to raise money for Barts Charity.
"My mission for Goode Walks is to help everyone I possibly can to enjoy the great outdoors – leading guided tailored walks and hikes for individuals and groups of all kinds in the Essex countryside and further afield."
How to join or support Julian 
Julian wants to encourage people from all over to join him on his walk. You can find his itinerary here.
We will be following along on his journey and providing updates so stay tuned!
If you would like to support Julian, you can do so here.
Find out how you can fundraise for us
Read more