Digitising blood transfusions
Blood transfusion processes are to be streamlined in East London thanks to £1.7 million of Barts Charity funding. The project, called Vein to Vein, will fully digitise blood transfusion processes in hospitals, reducing human error and improving patient safety and experience. The funding will provide barcoded wristbands, scanning devices and mobile printers, as well as bedside-electronic transfusion checks (BETC) training for staff. The project is set to be up and running by September 2022.
As well as being home to the country's largest trauma and cardiac centres, Barts Health NHS Trust is one of the biggest users of blood in the country, administering blood to around 15,000 patients per year. The service is vital for patients and saves many lives.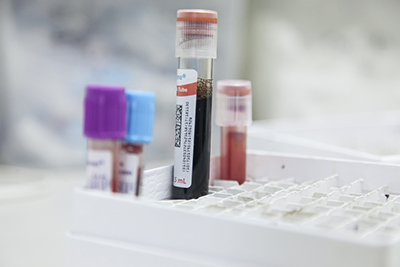 Easing the burden on clinicians
The current system for transfusions involves two nurses per patient to perform bedside checks and relies on nurses handling patient data to ensure patients receive the correct blood type. This is essential because if a patient receives the incorrect blood type there could be serious consequences, including death.
The Vein to Vein project will replace the manual checking of data with BETC. When patients arrive at the hospital they will be given barcoded wristbands containing their medical information. This barcode can then be scanned by medical staff, who will be prompted to carry out key steps in the right order. All processes that would usually be carried out manually will be electronically automated, easing the burden on clinicians.
"Our hope for Vein to Vein is that it will improve patient pathways by speeding up treatment times and reducing the need for admin from nurses."
Dr Laura Green, Consultant haemotologist and co-lead on the Vein to Vein project
Improving patient safety
Another key improvement provided by the project will be safety. Dr Laura Green, co-lead on the project told us: "The main benefit of the project is to improve the safety of our transfusion patients. With no need for nurses to write out labels and potentially make mistakes, we can eliminate the already-small risk of patients receiving the wrong blood type."
Vein to Vein may also lead to considerable cost-savings for the NHS. Whereas the current treatment requires two nurses to be present, BETC needs only one nurse to oversee a transfusion. This will free up a member of staff who will then be able to work on other patient-focused tasks that cannot be automated.
Additionally, the use of BETC will reduce the number of blood samples that are rejected by laboratories. In doing so, there will be a reduced need for repeated blood samples which take up both staff and patient time. Through these changes, the project is striving to improve patient experience.
Building on this infrastructure
"Our hope for Vein to Vein is that it will improve patient pathways by speeding up treatment times and reducing the need for admin from nurses." Dr Laura added: "We aim to build on the infrastructure from this project in the future to improve service delivery in other areas, allowing for innovation and research."
Clinicians involved in Vein to Vein were also present at The Royal London Hospital Open Day on the 8th of June, showcasing the equipment that Barts Charity funding has made possible and the impact this will have on patient experience.
Thank you to our donors for making important projects like this possible and thank you to NHS Charities Together for helping fund this project.
Support projects like this
Donate