Improving the hospital experience for all
"Hospitals can be frightening for those living with dementia – people are out of their familiar environments," explains Lucy, a Dementia Clinical Nurse Specialist and the project lead. With our funding, the older people's wards at Whipps Cross Hospital have been transformed.
The project was funded with the support of a generous legacy left by a local resident for patients at Whipps Cross Hospital, after her husband was treated there. Her friend and neighbour were able to join us for the grand opening.
"The changes centre around things that a lot of people wouldn't consider – for example, a shiny floor can appear slippery to a patient with dementia, therefore we have ensured matt flooring was used. We're improving the overall experience, not just for patients but staff too. I'm a big believer that wellbeing is a big part of a person's recovery," Lucy shared.
"We hope the changes at Whipps Cross will open people's eyes to what can be done to make hospital environments more dementia-friendly."
Lucy Cosgrove, Dementia Clinical Nurse Specialist
Five of the older people's wards have been transformed with clearer signage, contrasting colours and decluttered walls, making it easier for patients to navigate.
Day rooms have been created and have become social spaces for patients to be able to move away from their beds, to be able to dine and to reminisce, with pictures from local museums and retro objects on display. The walls have been decorated with the winning entries from a photographic competition judged by patients themselves.
Some patients can be on the wards for up to eight weeks so it's particularly important that they're comfortable there.
Dementia affects a large and growing number of people in the UK with numbers set to rise to over 1 million by 2025. The refurbishment is part of a pioneering programme of work supported by Barts Charity and led from Whipps Cross, promoting more dementia-friendly environments and care across Barts Health.
"We hope the changes at Whipps Cross Hospital will open people's eyes to what can be done to make hospital environments more dementia-friendly; the needs of people living with dementia should be integral to the design of clinical facilities and all care-giving," adds Lucy.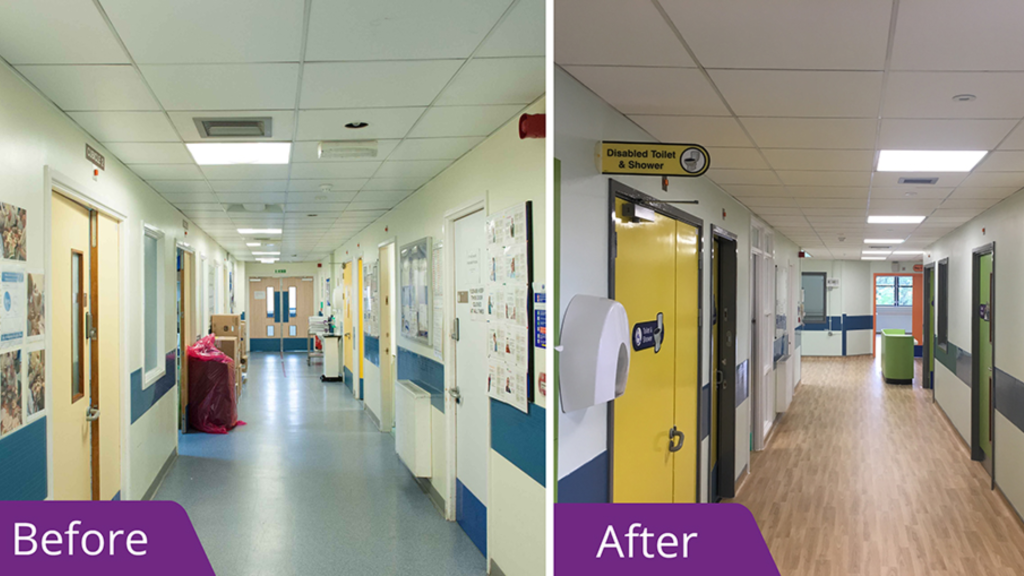 Going the extra mile
As well as receiving funding from the charity, the Dementia and Delirium team are active fundraisers, scooping the 'Best Charity Ambassador Team' at this year's Barts Health Heroes awards.
They constantly go the extra mile for their patients, fundraising with cake sales, sponsored walks, raffles and runs. Lucy has fundraised personally for the Dementia and Delirium team, running the Brighton Marathon with her husband back in April.
We'd like to thank Lucy and the team for their support and dedication to the patients in their care – the project will undoubtedly make a huge impact to the experience of people living with dementia who need to stay at Whipps Cross and potentially more widely across Barts Health NHS Trust.
We'd also like to thank supporters whose donations and fundraising are making results like this possible. Donations, including those left in wills, helps us to continue to bring brilliant ideas, ground-breaking research and transformational healthcare to life in East London.