Life-saving treatment for Daithi
Daithi was born 4-weeks premature and at merely 4 days old, suffered a neonatal stroke, caused by suspected sepsis, polycythemia and jaundice. 
Baby Daithi was first rushed to Whipps Cross Hospital in an ambulance and then transferred  to the Paediatric Critical Care Unit (PCCU) at The London Royal Hospital by the CATS Service for emergency lifesaving treatment.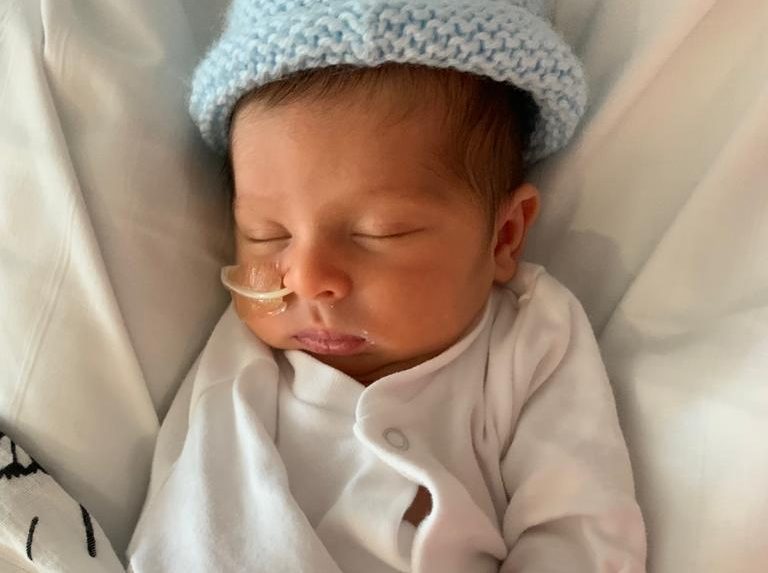 Daithi spent 21 nights in hospital and then had to be injected twice a day at home for the next 6 months to ensure full recovery and prevent any further blood clots. During this period, with 1 to 3 hospitals visits per week, the family spent a lot of time travelling to and from the hospital.
This was an incredibly difficult time for Daithi's family: "My mum was able to come over from Ireland and live with us for two months and David's work were extremely supportive in enabling him to work from home when it was needed and time off for attending hospital appointments etc. Injecting Daithí was far from pleasant, but we tried to make it as positive an experience as possible", shares Treasa, Daithi's mum.
"Really, Daithí got us through. He is honestly my hero, with a smile to melt your heart. We took things day by day."
Treasa, Daithi's mum
A walking challenge – celebrating one year
Mum, Treasa, has since set up a series of fundraising walks which she called "Dander with Daithi" to mark Daithi's first birthday. The name 'Dander' is taken from the Irish word for a stroll.  
The challenge, to walk the distance they travelled between the Barts Health NHS Trust hospitals during his first four weeks or the total distance in the last year. Treasa herself planned to walk the route they travelled between the hospitals. Plus, she also encouraged friends and family to take on the walking challenge and join the fundraising efforts.
Fundraising friends
Splitting the challenge over a few walks Treasa, sometimes joined by Daithi, successfully walked the route between the hospitals and their home in East London. Other fundraising friends ended up joining the 'Dander with Daithi' by climbing Ireland's highest peak, Carrauntoohil and one fundraising friend even climbed Mount Kilimanjaro.
Since, Treasa and friends have raised the incredible amount of £7,622 through their fundraising efforts.
A thank you message
Following Daithi's care, Treasa decided to raise money in support of the PCCU and The Royal London Hospital who helped their family tremendously:
"We've been absolutely blown away by our donors' generosity. Walking the hospital route has at times been quite emotional but, in a way, has given the past year some closure and been a time to reflect. We hope the money we raise goes some way to supporting the teams and other families."
"To the teams at the PCCU and The Royal London Hospital, I'd like to say: You were there for Daithí when he needed it most and are real life superheroes. We appreciate your skill and see how hard you work in the most challenging circumstances. We are forever indebted to you all and words cannot begin to describe our gratitude. Thank you so much."
Shared mum, Treasa. 
"Do it! Keep it simple, have a clear message and you'll be surprised at the impact that you will have", Tresea says, encouraging others to take up their own fundraising initiatives.
Support Barts Health NHS Trust
Donate