Tommy was inspired to raise money to support the staff at Newham Hospital following life-saving treatment for a perforated appendix in 2014. The typically straight forward removal procedure was complicated as his appendix had already burst. Tommy was given a 50% chance of survival, lost 15kg and after a few weeks in hospital made a full recovery.
Tommy shared his reflections on this experience in hospital: "mine had been burst for in excess of probably 20 hours and the pain was unbearable. At one point, my consultant told me that I was 50/50 for my life and I'm very glad I only found out after those odds had been beaten," reflected Tommy.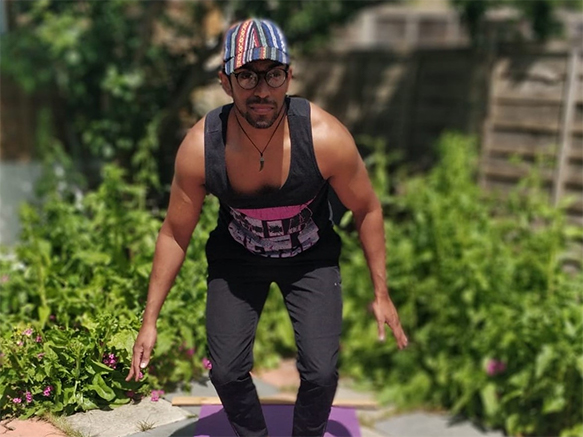 Fundraising to say thank you
With a new lease of life Tommy wanted to give back and decided to take on not one but two different fundraising challenges.
First up, Tommy braved the shave. Cutting off his hair to encourage donations was a daunting task as he worried what he'd look like.
Following this, Tommy took on a more physical challenge, completing 720 full burpees in 12 hours. This averages out to one burpee per minute, non-stop fitness. A burpee is a full body exercise that tests endurance and functional fitness.
Although Tommy enjoys regularly working out, he had not attempted any fitness activity over such a long period before. This physical challenge turned out to be far more intimidating than his hair cut.
Before he attempted the burpee challenge, Tommy devised a strategy to help him complete the 12 hours of exercise. This included the food he was going to eat throughout the day to keep his energy levels up. Tommy needed to balance getting the right nutrients to fuel his performance whilst avoiding anything too heavy.
Tommy's brother was on hand during the day to count the burpees and make sure that all reps were full and complete. The challenge took place between 7:20 in the morning and 7:20 at night, and the 720 burpees were chosen to represent the 72 years since the NHS opened its doors. A fitting fundraising tribute to the NHS.
Tommy said: "The last few months have been tough for everyone – but it has been inspiring to see the country rally together to keep up our collective morale and to support the NHS. This challenge is my small way of doing something positive in challenging times."
Thank you, Tommy.
Tommy's continued support #WearTheBadge
After completing his two challenges and fundraising for our Emergency Covid-19 Appeal, Tommy continued to show his support for Barts Charity.
East Londoner Tommy shared his story for our #WearTheBadge campaign. Tommy chooses to wear the badge a sign of gratitude for the NHS staff that saved his life and our work as a charity to support them.
Donate today to support life-saving care at Barts Health
Donate