Importance of brain tumour research
Brain tumours kill more people under the age of 40 than any other cancer. The survival rates are very low, with less than 20% of those diagnosed surviving beyond five years, compared to 50% of all other cancers. These stats show that there is a clear need to invest in brain tumour research.
Brain tumour expert Silvia Marino, Professor of Neuropathology at Queen Mary University of London and Edward McKintosh, Consultant Neurosurgeon at Barts Health NHS Trust have been awarded a grant of £1.5 million to vastly enhance the current research into brain tumours. They will focus on glioblastoma, the most common and deadly form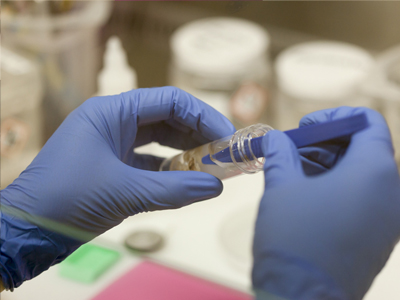 "This will allow us to move faster from the bench to the bedside and offer more experimental treatments to brain tumour patients."
Professor Silvia Marino
More experimental treatment options for patients
Working with Rachel Lewis, Consultant Clinical Oncologist at Barts Health, the team will use the grant to create infrastructure within the Trust's hospitals to run clinical trials with brain tumour patients.
This will help Professor Marino and her team of researchers to build upon the success in basic science at the Brain Tumour Research Centre (funded by the charity Brain Tumour Research).
The project will bring the translation of laboratory findings to patient treatments ever closer and will also mean a significant increase in the amount of experimental treatments available to patients with brain tumours.
This funding builds on our previous grant of £200,000 which helped the Brain Tumour Research Centre secure additional substantial funding from other sources.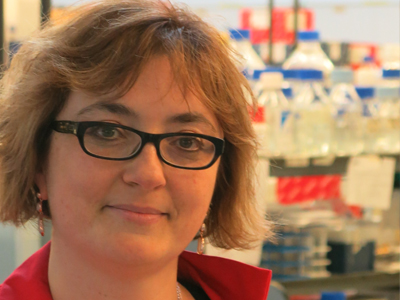 Reflecting on the new funding
Professor Marino says: "I am thrilled to have been awarded this funding from Barts Charity, which complements the support we are receiving from Brain Tumour Research and other sources. It will allow us to move faster from the bench to the bedside and offer more experimental treatments to brain tumour patients."
Our Chief Executive Fiona Miller Smith added: "Professor Marino is a world-leading researcher in this important and underfunded area. By making this significant award, the Charity is supporting the extension of her laboratory work to accelerate the translation of beneficial scientific discoveries into patient care."
Designated a Tessa Jowell Centre of Excellence
In 2022, the Barts Health neuro-oncology service that we funded was recognised as a Centre of Excellence by the Tessa Towel Brain Cancer Mission.
This award is given to just a handful of services across the UK and recognises the quality of care given to brain tumour patients. It is awarded based on strict criteria including clinical practice, training opportunities for staff and research.
Support research like this
Donate