West Ham United backs our campaign
The East London football club is a key partner in our awareness campaign, with captain Mark Noble playing a vital role
West Ham captain Mark Noble is one of the prominent faces of our campaign and will be appearing across giant advertising billboards, phone kiosks, and double decker buses as they drive across London.
Mark said: "Having grown up in East London, it's even more of a privilege for me to be part of this campaign. NHS workers across the country are on the frontline every day of the year and it's important we continue to show our gratitude for their incredible efforts, particularly after what has been extremely tough time with the pandemic.
"Supporting our local community and NHS trusts is something that means a lot to the Club and, of course, me personally and the rest of the squad. West Ham United pledged further support to the local NHS trusts across East London and Essex at the start of the pandemic, based on their views on how the Club can best support them in dealing with COVID-19.
"This included promoting their critically important charitable appeals, fundraising initiatives for equipment and staff wellbeing, a donation of shirts for West Ham-supporting patients and NHS staff, staff volunteering, special experiences for patients and their families, and NHS workers, to raise the spirits of those who have been through so much during the pandemic and continued morale-boosting messages for patients and staff.
"I hope this campaign will further develop our ever-growing relationship, and provide some much-needed support after a challenging time for our incredible NHS."
Having grown up in East London, it's even more of a privilege for me to be part of this campaign
For West Ham's final match of the 20/21 season against Southampton they hosted six Barts Health NHS Trust staff to act as flagbearers. The key workers and their friends and family joined the 10,000 supporters at the London Stadium.
Laura Zarb, who works at The Royal London Hospital, said: "Thank you to West Ham United for providing the tickets to yesterday's game and for allowing us to be flag bearers before the match. It was my first time at a professional football game and the atmosphere in the stadium was amazing and it was a memorable experience I got to share with my eldest son – Thank you, I am very grateful!"
"I felt incredibly proud to represent the NHS with a team we support. It was made even more special as it was the last game of the season" said Maria, Senior Nurse Division of Medicine at Whipps Cross Hospital.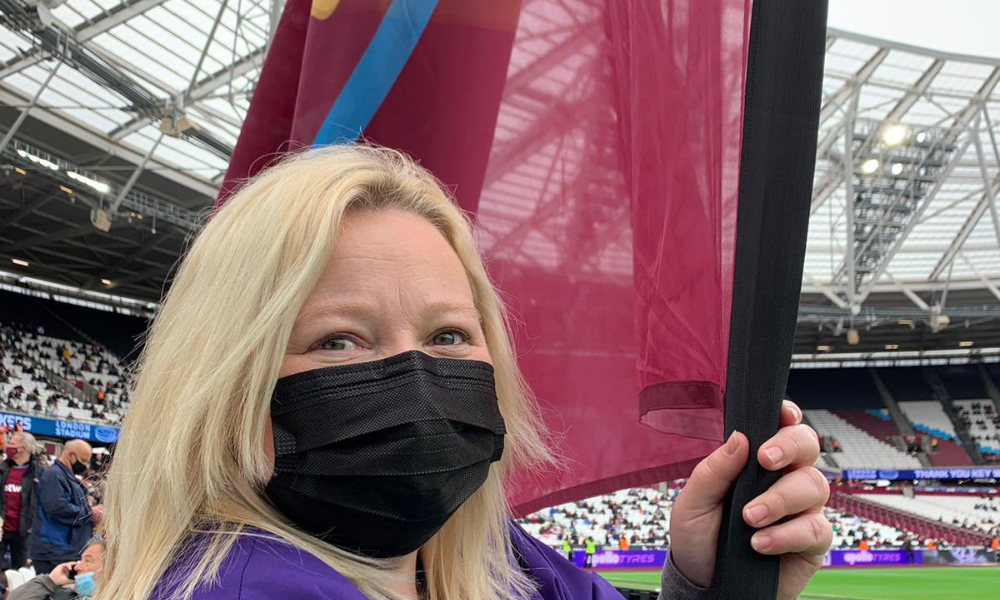 Fiona Miller Smith, chief executive of Barts Charity, said that she was delighted to have West Ham as a partner.
"West Ham United is such an integral part of the East London community and we are extremely grateful to have the club's ongoing backing. Throughout the pandemic, the club and its fans have always gone the extra mile to help us provide additional support to our local hospitals and patients.
"By working together during this upcoming campaign, we will be able to amplify our messages in support of the NHS and reach more fans and members of the wider community as a result. I will be wearing my badge as a mark of appreciation for all that the NHS has achieved in the most challenging of circumstances, and as a sign of hope for the future. I urge all Hammers fans to join me in getting their own badge, and wearing it with similar pride."
Join Mark and West Ham United in supporting East London's NHS by signing up for your free Barts Charity Badge today.