In 2017, Trevor's daughter Lizzi was hospitalised after contracting the bacterial infection, E.Coli, at a fast-food restaurant. She received life-saving treatment at St Bartholomew's Hospital.
After 11 days of illness, Lizzi's body had gone into multi-system failure, meaning her heart, brain and other vital organs had been affected. Trevor told us: "Our family and the clinical teams were fearing the worst."
Lizzi was initially rushed to her local hospital, where the team quickly turned to the Barts Charity-funded SHOCK App. The app, the first of its kind in the UK, allowed Lizzi's clinicians to send an alert to heart experts at other hospitals. They were invited to join an urgent conference call to discuss her treatment options, which ultimately led to her transfer to St Bartholomew's Hospital.
Over the course of 96 hours, Lizzi was treated with a combination of an ECMO machine and highly specialist heart medication. Doctors then removed the machine and Lizzi's heart began to beat on its own. With support from hospital staff and her family, she battled her illness and made a remarkable recovery. As a result of the E.Coli, Lizzi unfortunately lost her sight, but hasn't let that hold her back.
Looking back, Trevor praises the care and compassion shown by all staff at the hospital and says it's something he will never be able to repay. Some of the special acts of kindness he remembers are staff styling Lizzi's hair, singing to her and telling her stories. He also thanks them for their extraordinary support during such a difficult time.
"They held our hands as we wept over her. They really did demonstrate and deliver absolutely nothing less than gold star patient-centred care."
Trevor on the care Lizzi received at St Bartholomew's Hospital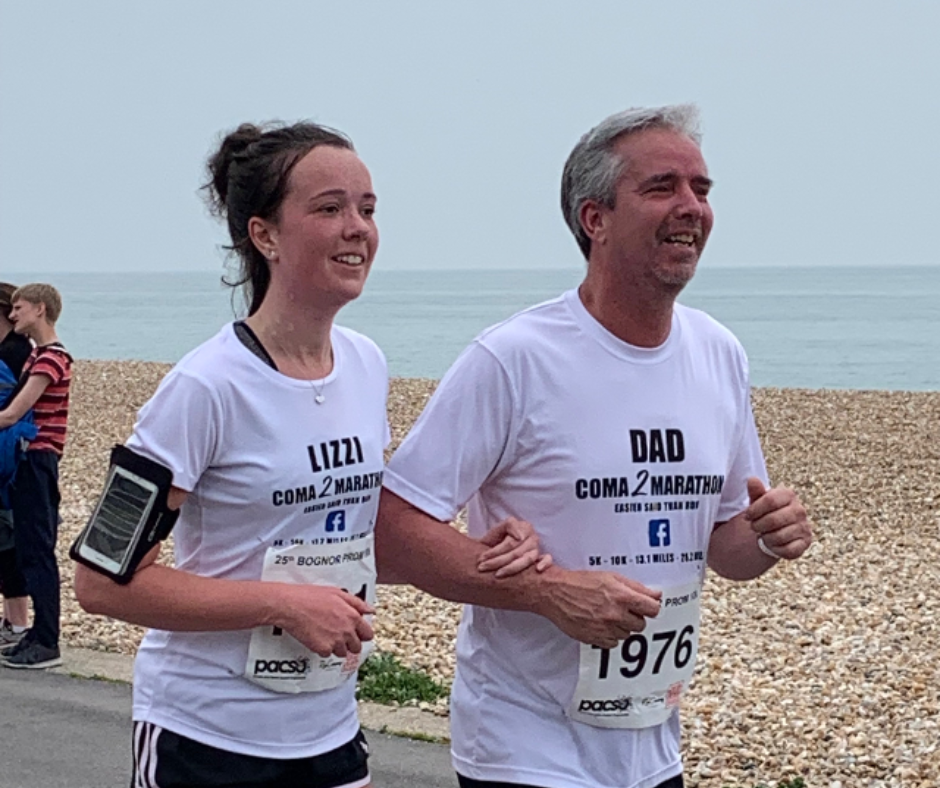 In 2022, five years on from his daughter's illness, Trevor ran the Royal Parks Half Marathon to give back to those who cared for Lizzi. Despite running half marathons and even a full marathon in the past, Trevor stopped running over a year ago.
"Lizzi told me that I'd put on weight and had no motivation to run anymore. So we thought why don't I run for St Bartholomew's Hospital? We owe them a great debt and we want to try and raise some money."
Trevor shares how he began his fundraising journey.
He and Lizzi now even train together, with Trevor running and Lizzi following behind on a horse. "Dad runs and the horse that I ride, he follows Dad. We all exercise together" Lizzi shared.
A determined fundraiser, Trevor ran exceptionally well, raising an impressive £905 and smashing his fundraising target.
We would like to thank Trevor for his dedicated fundraising efforts. His fundraising will help us to fund more life-changing healthcare innovations,  just like the SHOCK App, which helped save his daughter's life. From everyone at Barts Charity and St Bartholomew's Hospital: congratulations!
Support projects like this
Donate