Delivering critical care on the move
With 44 beds, The Royal London Hospital has one of the largest intensive care units in the UK. This intensive care unit – known as the ACCU – is where some of the most seriously ill patients in the hospital are looked after.
Patients here need a lot of equipment to keep them stable and carefully monitored – and donations have allowed the ACCU team to purchase new kit which will support patients when they're being transported around the hospital. 
Many patients on the ACCU need to be moved around the hospital to surgical theatres or for further testing like MRI scans. To make sure that patients receive the best care whilst they're being transported, the team have used our £46,000 funding to purchase the latest portable equipment.
These new monitors will make such a difference in getting the patients we have around the hospital more efficiently
One of the new pieces of equipment is an extra ventilator. Ventilators help patients breathe when their lungs aren't functioning properly. Up to now, the ACCU didn't have enough portable ventilators for the number of patients who required them, which led to delays in patients being moved. The team's new portable ventilator will make sure that patients can be transported to where they need to be, as soon as possible.
We've also funded six new machines which monitor patients' vital signs on the move. Before, the ageing portable monitors were obsolete and in need of replacement. They were incompatible with the bedside monitors which caused issues with the probes and accessories connected to the patients. The brand-new vital signs monitors are compatible with the bedside equipment and ensure that staff can easily keep track of the patients' health, whether stationary or on the go.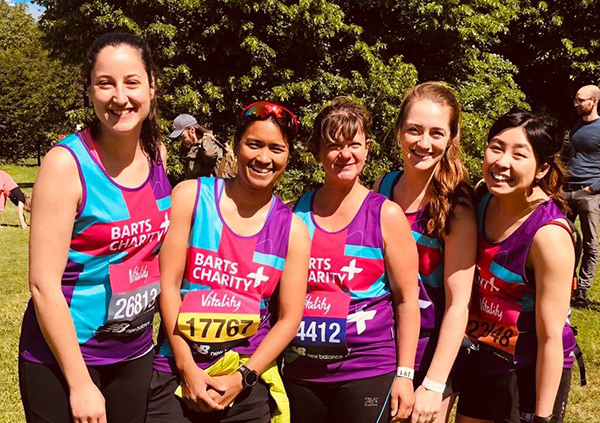 "These new monitors will make such a difference in getting the patients we have around the hospital more efficiently," says Richard Aldridge, Lead Technologist on the Critical Care Unit. "The nurses will no longer need to hunt down alternative probes, and can simply switch a patient module from the bedside monitor to the transport one along with all the patients vital signs history.
"The additional transport monitor means that demand for the existing four ventilators that we had has reduced. This too will help to ensure that patients can be moved to where they need to be at the time they need to be there."
The ACCU team are active fundraisers, including taking part in a Tough Mudder, Ride London and Serpentine Swim!
Thank you to the team for supporting the Charity and improving things for patients.